THE ART AND THE SCIENCE OF TEACHING

Don't miss the exciting opportunity to view the PHOTO GALLERY
(please, scroll to the bottom of the page)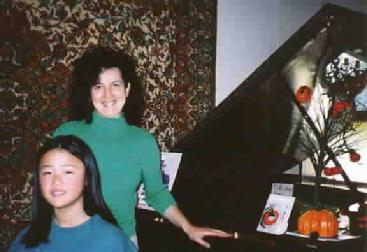 TO CONTACT US VIA E-MAIL: please, click on image for the direct link
Inquire about the openings that may be available for private piano lessons for students of various levels (motivated beginners through advanced) and various ages (5 y.o. through adults).
Alternatively, starting to work with the Studio Assistant and Wait List placement may be available.
Also, small groups are forming for preparatory classes for children that create foundation for the basics of music perception, while emphasizing exploration of music vocabulary & engaging students into various fun and creative arts & music activities.


TO CONTACT us in advance via e-mail: CLICK ON THE 1ST IMAGE ON THIS PAGE, RIGHT ABOVE FOR DIRECT E@MAIL LINK or via phone: 510.845.4624 for the telephone and in-person interviews. We look forward to hearing from you.
Enjoy the virtual visit to Ms. Rozalina Gutman Piano Studio in Berkeley Hills, CA, USA and listen & watch the video recording of "Lullaby" by Frederik Chopin, performed live by Ms. Rozalina Gutman on Steinway 1924.
(To view, please, click on the left icon of media file right below.)
during sunset time at R. Gutman Piano Studio
Incoming students and their parents are usually encouraged to discuss the following and other educational topics during the Introductory Lesson/interview:
I view the teaching of music both as the Art and as the Science. And, I am always very glad to share my excitement about the creative process of music making with those who are eager to learn. Music is that invaluable tool that allows multitude of challenges for the cortex and neuro development. while providing immidiate satisfaction with results, yet offering endless achievement goals. And, the piano playing in particular allows engaging 10 fingers in simultaneous, challenging, yet exciting activity of the art expression.


I enjoy watching my students to be surprised about discovering their own limitless abilities, be able to do something extraordinary, that is not usually expected of pianists of their level/age - both technically and artistically.
click to go to the webpage of Russian Center in San Francisco
I feel fortunate to have direct lineage to the piano playing tradition that is known internationally as 'The Russian Piano School'. And, I am always glad to be able to pass onto my students mysterious combination of the skill and vast knowledge, acquired through many years of formal training, that involves secrets of famed "Russian" technique and interpretation style, passed through one-on-one interaction with my private teachers as well as with some of my renowned friends and colleagues.
And, of course, I feel most satisfied seeing my students developing the passion for true and heartfelt expression, that has been internationally recognized as a symbol of highest achievement in Music and other Performing Arts.
| | |
| --- | --- |
| Ms. R. Gutman, Chair & Founder of Original Composition Prize, presents diplomas and monetary awards to the winners of YAA | Also, being passionate about the cause, I've volunteered multitude of hours engaged colleagues, as well as local and Int'l rank celebrities, in order to create events that inspire and present rewarding opportunities for students's creative development. (for more info, please, click on button "SUPPORTING ARTS EDUCATORS" |
I see my interaction with each student as a process of assisting their unique talents to flourish, helping each of them to strive to their own highest potential and to reach their own personal goals.
Most of my lessons combine a great variety of aspects, such as building both strong notation reading skills and developing the ability to play from memory, as well as the finest technique (demystify for beginners of all ages and advanced students), musical expression, theory and analysis, composition of their own original music, stage presence, fine as well as fun details of interpretation, etc.
My students also learn to enjoy listening to music with certain understanding as if they perceive both the masterpiece paintings' details and general form. I strive to present each lesson in a form of synergetic experience that appeals to Multiple Intelligences ("Multiple Intelligencies" by Howard Gardner) of the student. That is why, along with unexpected technical achievements, my students demonstrate creative interpretive renditions of sophisticated music (such a movement of Mozart Concerto performed by 8 y.o. girl, etc.)
| | |
| --- | --- |
| | One of the 1st rules my students (and even their parents) learn is that the word "difficult" is simply not allowed at my Studio. (And, I hope, all my students carry on this attitude dealing with everything in their lives.) Starting from such positive foundation, I enjoy engaging my students in the search for the creative solutions, often yielding most outstanding results. Children often have natural openness to such "Invitation for the Magic". |
On the other hand, one of the main challenges in acquiring such new and exciting attitude for the child's over all development - is having parents of students (particularly those of young age) to be psychologically ready for their children's unusual success as well as to provide important adequate nurturing and inspirational support, custom-tailored in close collaboration with the teacher.

I admire all my students' efforts to achieve their own potential, as well as to develop the deeply satisfying mastery that in turn, can lead to the endless personal enjoyment and inspiration to be shared with their grateful listeners: school mates, friends, relatives, and for some - maybe to even large audiences. Each of my students learns at her/his own pace and it is satisfying to see how the music positively transforms someone's personality a little bit at the time. (With that in mind I carefully choose my Assistant Teacher(s). )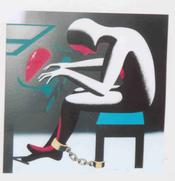 Imagination is the key to success
My personal experience of serving as Adjudicator for Certificate of Merit Exam in various San Francisco Bay Area Branches of Music Teachers Association of CA was quite revealing - I've observed that many piano teachers (surprisingly incl. even those with well-established reputation) promote such unfortunate technique methods and approaches that are highly unproductive and even harmful for the students, who otherwise possess promising abilities for significant success in piano performance. Also, I've witnessed how some teachers' approach lacks the emphasis on creativity and effort to consider the subject of affinity to the assigned music for the child. As the result, quite often children may loose interest and most unfortunately - they and their parents may develop the belief that they are not capable of making music.
[CLICK ON IMAGE TO SEND YOUR QUIZ ANSWER AND COLLECT THE REWARD POINTS].Fragrant & inspiring climbing rose "Charisma" blooms at the entrance of R. Gutman Piano Studio.
I take great pride in my students' success and encourage them to share the gift of music making by performing in various settings, starting from informal Studio recitals for their parents and friends and community/retirement centers presentations as well as playing with local orchestras, formal auditions, exams, competitions (Congratulations! to many winners), State conventions and master classes with well known musicians.
In addition to learning about music, majority of my students succeed in developing useful learning skills and approaches (such as ability to concentrate, multitasking, abstract thinking, memory, patience, creative resolution of problem situations, imagination, public performance and leadership skills) that determine success in other areas of life. Some of my students chose Music to be their Major of Minor in college, some will major in other subjects, yet carrying on the joy of the music making through out their life time - to their teacher's great pride and satisfaction.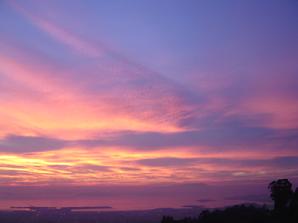 No sunsets over the SF Bay is the same and each is inspiring!in its own way
I've taught students of various levels and ages - both adults and children, advanced performers and beginners with no previous experience. Without knowing, each student teaches me something new and important too. Sometimes, I feel very grateful to some students, who inspire me to compose music with them, for them or about them.
I feel very fortunate to be able to share a lovely spacious Studio space in North Berkeley Hills with soothing view of the Bay, as well as my antique Steinway Grand piano, Model A, made in 1924, and a teaching upright piano, that is used for the lessons with beginners and for practicing concerto scores. There are lots of surprises in the Studio and in the surrounding garden that may often become a source of inspiration for music making for the little promising piano aficionados and those who carry the love for music through their entire lives.
(Please, go to the bottom of the page to see some fun and useful info about exploring various points of interest, such as Tilden park, La Loma-Glendale park, useful shopping areas, etc., that are located close to the Piano Studio.)
Please, go to page "ABOUT THE FOUNDER" to read biographical info about Ms. Rozalina Gutman.
| | | |
| --- | --- | --- |
| With Scholarship students & Michael Morgan, Oakland Symphony Conductor (click on the image for the link), Family Fair'02 | With world's most sought pianist Arcadi Volodos (click on image for his interview) after performance at SF Davis Symphony Hall | Yakov Kasman (click image to go to his website), Silver Medalist of 10th Van Cliburn Int'l Competition with Natasha Paremsky at the Master Class, at R. Gutman Piano Studio |
| | | |
| --- | --- | --- |
| Student Original Compositions Costume Recital, Halloween'02 | Spring Student Recital at the R. Gutman Piano Studio | With the composer, Grammy Award Winner, Daniel Steven Crafts (click on image for the website link) and Stephanie M., 6 y.o., Scholarship recipient, after premiering his Concertino for piano & orchestra. |
| | | |
| --- | --- | --- |
| With recipients of MTAC Discovery Scholarship at the SF Opera "Nutcracker" performance, 12.2003 | Studio Recital, dedicated to the students' original compositions, during the 10th Youth Festival at Berkeley Art Center | Aydin Eskafi, 5 y.o., Scholarship recipient, at the lesson |
| | | |
| --- | --- | --- |
| With Leon Zhang, Scholarship Recipient, winner of Jr. Bach Festival Audition ( Minor in Music) | Scholarship Recipients Jennifer Bergman, Stephanie Mao & Allison Mac after performance at SF State University | With Miki Nakamura, Scholarship Recipient, Winner of US Music Competition, SF Concerto Orchestra Competition Semi-finalist |
Be sure to visit these favorite spots in the neighborhood of R.Gutman Studio
| | | |
| --- | --- | --- |
| Tilden Park with inspiring views, hiking, SteamTrains, MerryGoRound, Pony rides, botanical gardens is 3 min. away. | Check out holistic Elephant Pharmacy (Shattuck@Cedar) | Check Andronico's Deli for sandwiches with freshly made in their kitchen & & ready-to eat meat & poultry that contains no preservatives |
EXCLUSIVE OFFER TO THE SUPPORTERS AND SPONSORS OF OUR EMERGING INT'L CAMPAIGN LIBERATE BACH!
THAT SUPPORTS RECOVERY OF MUSICIANS AND THEIR AUDIENCES FROM THE TRAUMATIC IMPACTS OF THE ABSURD LIMITING CONVENTION OF EMOTIONAL SELF-REPRESSION

.
YOUR PERSONALIZED MESSAGE to a power figure of your choice
can be amplified by the worldwide audiences' support and cheers, led by

Timeless Genius Music Therapist J.S.Bach, who comes to life through his music to advocate for the powerless, to empower their voices, & to help them being finally heard, as they speak the truth to those who are unfit to occupy the power chairs. The world will witness how his music allows to grasp the inner conflict of contributing elements

of their cognitive dissonance through the healing experience of the

cruel absurdities that result from their blind spots,
thanks to being set to the soundtrack of
unidentified for three hundred years and just unearthed by our founder Rozalina Gutman MUSICAL CARTOON, filled with unnoticed by sc
holars, teachers, music performers and their audiences dissonant sonorities, composed around the time of his false imprisonment by the persevering through incivility of his contemporaries Genius-CONVICT
J.S.Bach. Find out about this time-limited exclusive offer for Supporters and Sponsors, contributing to manifestation of her daring recording of the funny maverick & related efforts of

exposing senseless

lies about J.S.Bach, with implications for brain sciences & throughout society
NOW is the special opportunity TO WRITE YOUR NAME INTO THE HISTORY! Join the progressive vanguard of our society: BE AMONG THE FIRST TO EXPERIENCE, TO MASTER & THEN TO HELP LEAD THE REST OF THE WORLD AWAY FROM THE CURRENT SELF-DESTRUCTIVE PATH FOR OUR CIVILIZATION, by reawakening the resonance to our souls' purposes, and
re-patterning of the unfitting inertia of the human cognition, by reflecting and embodying this conscience awakening through Music and the Arts