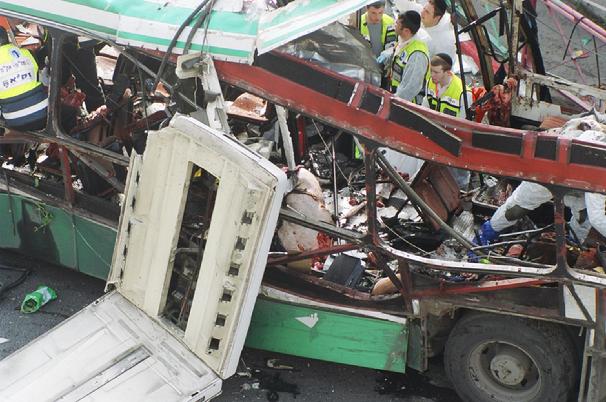 Bombed Jersalem civilian bus was brought for the display at the Peace Rally in Berkeley and in San Francisco, CA, USA
On January 17, 2005 Ms. Gutman offered live performance of her original composition "Yearning for Peace" (solo piano version), the Rhapsody on Jewish and Arabic traditional themes, as well as copies of the CD's with its recording at the multi-cultural Peace Rally that displayed the civilian bus from Jerusalem that was bombed by the heartless terrorists. Ms. Gutman was very proud of being able to contribute to the process of raising awareness about strongly denouncing any acts of deliberate violence against the civilian population. It was very satisfying for her to be able to revive the Peace–making tradition of her renowned ancestor Baal Shem Tov, revered peace ambassador, mystic, healer, Kabbalah master, and one of the founders of Hassidism.
Despite the most unfortunate cancellation (several hours! prior to the performance) by Mr. Jim Callahan, the owner of Piedmont Piano Co., who acted in fear of anonymous threats from pro-Palestinian group although refused to even make an apology, Ms. Gutman was able to make urgent arrangements for the performance to take place anyway. Mr. Paolo Fazioli, Ms. Gutman's music admirer and supporter, who came to San Francisco from Italy on that day, was quite frustrated not to be able to hear Ms. Gutman's composition, performed on his concert Grand piano on that day. He expressed personal regrets and sincere hopes to hear the piece soon nevertheless.

She and her audience were warmly welcomed at Sherman Clay Piano Store, located at 647 Mission Str. in San Francisco, http://www.shermanclay.com/storehistory.htm (Mr. Eric Schwartz, Bay Area District Manager), by very kind and supportive team of staff - Ms. Michele Hsu, Ms. Audrey McKeague, Ms. Jill Christie, Mr. Anthony R. Thomas, who re-arranged their schedule at a very short notice to help this event take place nevertheless.
In addition, Ms. Gutman was able to arrange for the professional video recording and found a very brave videographer Mr. Dan Schmeltzer (upon request of Ms. Sanne DeWitt to change previously selected documentary maker). Mr. Dan Schmeltzer was not afraid to follow many of Ms. Gutman's very risky moves, including accompanying her during the violent attack of pro-Palestinian group that tried to disrupt the Peace Rally. It is rewarding to know that Sanne DeWitt had used this rare footage in her 2nd version of the film about this event that she intended to contribute to the Holocaust Museum.
EXCLUSIVE OFFER TO THE SUPPORTERS AND SPONSORS OF OUR EMERGING INT'L CAMPAIGN LIBERATE BACH!
THAT SUPPORTS RECOVERY OF MUSICIANS AND THEIR AUDIENCES FROM THE TRAUMATIC IMPACTS OF THE ABSURD LIMITING CONVENTION OF EMOTIONAL SELF-REPRESSION

.
YOUR PERSONALIZED MESSAGE to a power figure of your choice
can be amplified by the worldwide audiences' support and cheers, led by

Timeless Genius Music Therapist J.S.Bach, who comes to life through his music to advocate for the powerless, to empower their voices, & to help them being finally heard, as they speak the truth to those who are unfit to occupy the power chairs. The world will witness how his music allows to grasp the inner conflict of contributing elements

of their cognitive dissonance through the healing experience of the

cruel absurdities that result from their blind spots,
thanks to being set to the soundtrack of
unidentified for three hundred years and just unearthed by our founder Rozalina Gutman MUSICAL CARTOON, filled with unnoticed by sc
holars, teachers, music performers and their audiences dissonant sonorities, composed around the time of his false imprisonment by the persevering through incivility of his contemporaries Genius-CONVICT
J.S.Bach. Find out about this time-limited exclusive offer for Supporters and Sponsors, contributing to manifestation of her daring recording of the funny maverick & related efforts of

exposing senseless

lies about J.S.Bach, with implications for brain sciences & throughout society
NOW is the special opportunity TO WRITE YOUR NAME INTO THE HISTORY! Join the progressive vanguard of our society: BE AMONG THE FIRST TO EXPERIENCE, TO MASTER & THEN TO HELP LEAD THE REST OF THE WORLD AWAY FROM THE CURRENT SELF-DESTRUCTIVE PATH FOR OUR CIVILIZATION, by reawakening the resonance to our souls' purposes, and
re-patterning of the unfitting inertia of the human cognition, by reflecting and embodying this conscience awakening through Music and the Arts